Facility Builders and Erectors Images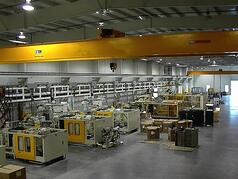 Large high volume injection molding facility with special equipment foundations & heavy load mezzanines combining tilt-up & steel building construction.
FBE Designed, Built and Constructed this historical replica of a Power Board Facility which houses a state of the art electrical substation located south of Anaheim City Hall.
A ground up industrial aerospace manufacturing facility environment with overhead cranes, special equipment foundations and strict environmental controls.